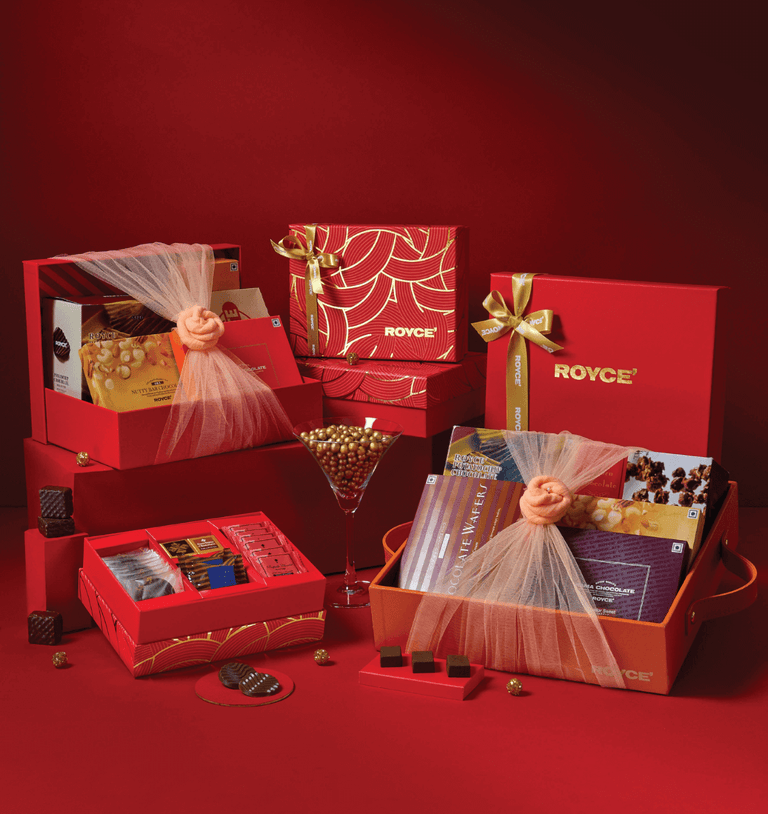 Make Your Wedding Extra Special With ROYCE'
Chocolates have become an integral part of any celebration, and what celebration is more significant than a wedding? They are perfect for gifting, as part of guest hampers, the perfect accompaniment to your invites and announcements, and also work like a charm when given as favours to make any of your wedding event memorable.
ROYCE' Chocolate has the most decadent collections that are unique, exclusive, and most importantly, indulgent, just as your wedding should be. Our chocolates are made from the finest ingredients sourced from around the world and made in Japan. You can choose from over 25 varieties of chocolate truffles, dragees, pralines and cookies ranging from mild-sweet to extra-bitter!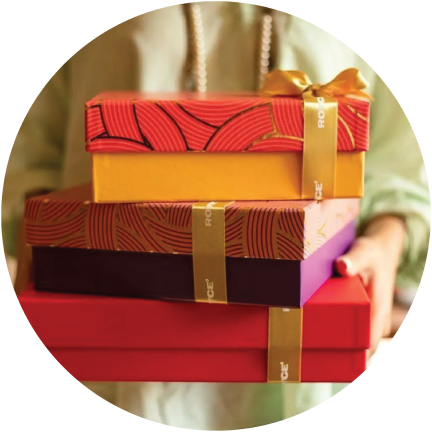 Here are the top ways you can make your wedding even more memorable with ROYCE' Chocolate.
Start Off On A Sweet Note

Announce your big day with a beautiful wedding invitation that is accompanied by a curated box of our finest chocolates. This luxurious, exotic gift will set the perfect tone for your wedding celebration. To make your invite even more classy, we can customize the packaging to suit your wedding theme and make your invite as personalized as you wish. After all, it's the presentation that matters, and at ROYCE' we understand the importance of it.

Welcome Your Guests In Style

Welcome baskets and hampers are part of our age-old customs and traditions. As wedding guests come first, you want to ensure they are comfortable during their stay for the wedding festivities and to make them feel extra special; you can create custom hampers that include a variety of chocolate products by ROYCE'. Trust us; your guests would remember an indulgent surprise fondly.

Make Each Moment Decadent

Throughout the wedding celebrations, include ROYCE' as part of your celebrations. Have our select chocolate products around the house for family and friends to enjoy. You can also have ROYCE' as part of any meal through the festivities accompanying tea, coffee, or desserts for an extra dose of indulgence.

Gift Favours That Make An Impression

Favours during the various wedding events are a must to show appreciation and to make the guest feel pampered and appreciated. ROYCE' has the most unique offerings for such events, be it a bachelor or bachelorette parties or trips, mehndi or sangeet night, or even as part of thank you notes post the wedding. Our Potatochip Chocolate, Popcorn Chocolate, Potechi Crunch Chocolate, Baton Cookies, Wafers, Pralines, Chocolate Coated Almonds and Blueberries, and various other assortments make for perfect wedding favours. ROYCE' also offers chocolate gift boxes to suit every taste.

Personalized Chocolate Wedding Gifts

Besides being a great addition to any wedding celebration, ROYCE' Chocolate is also perfect as a wedding gift for the new-age couple. ROYCE' offers a number of personalized wedding gifts. If you're a guest at a wedding and can't decide what to give the happy couple, check out chocolate wedding gift options ranging from sweet to mild to dark and bitter. We have something for everyone, no matter what the personalities are of the blessed couple, you're sure to find something to suit every palate at ROYCE'.
ROYCE' is the choice of many new-age couples and families, and we are delighted to be a part of their weddings. We look forward to being a part of many more weddings to come and will continue to introduce more indulgent chocolates that are perfect as wedding gifts and favours.
Let the celebrations begin and close on a luxuriously sweet note with ROYCE'