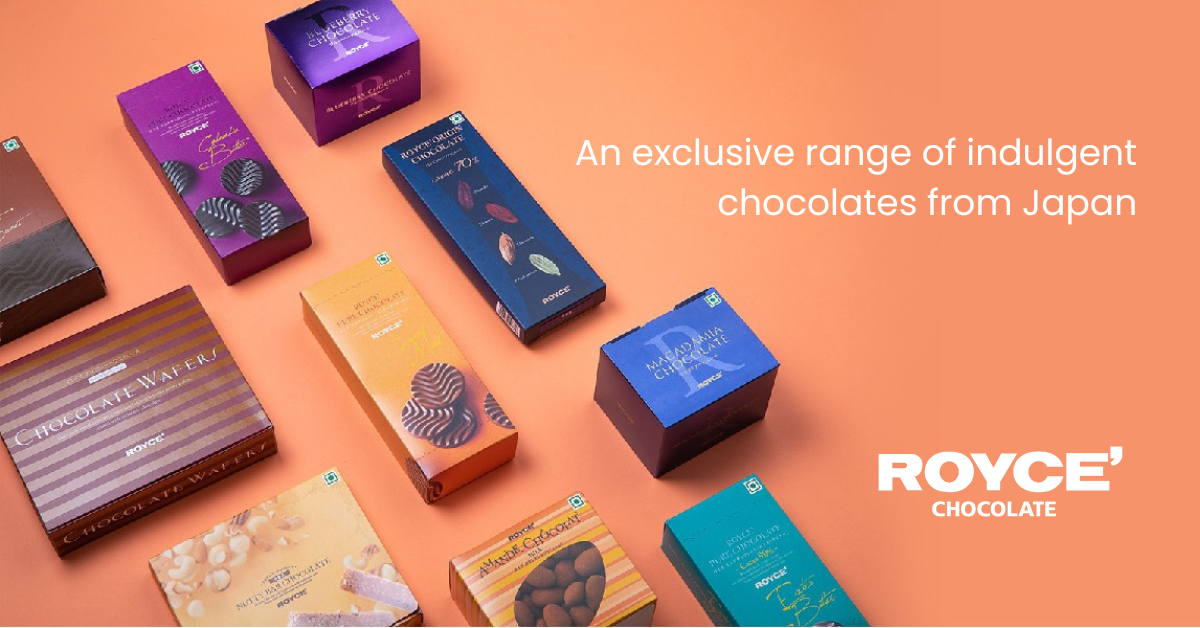 Unique Chocolate Gift Box Ideas by Royce' Chocolate That Go Well With Every Event
Chocolates are universally loved, making them a safe and enjoyable choice for gifting. Chocolate has long been associated with positive emotions, acting as a mood enhancer and bringing a sense of joy and delight. By gifting chocolate, you provide a thoughtful and uplifting present that is sure to be appreciated by anyone, regardless of their preferences. Royce' Chocolate offers a vast collection of chocolate gift boxes for every occasion, each one standing out from the ordinary options found in the market. With our unique and exquisite selection, you can find the perfect gift that is unmatched and truly special.
Experience the art of gifting with Royce' Chocolate as we unveil the top five occasions where a chocolate gift box can truly shine, accompanied by delightful ideas to inspire your giving.
1. Housewarmings:
Embrace the inviting nature of chocolate gift boxes as they add a touch of warmth and sweetness to the housewarming celebration, leaving a lasting impression. The "Chrome" Gift Box, with hues of amber illuminated by rays of gold, adds a touch of elegance to every celebration. It stands out as the perfect choice for any gifting occasion from our collection, featuring an exquisite assortment of our best-selling chocolates that will delight new homeowners. This thoughtful gift is a memorable gesture that symbolizes wishes for a sweet and prosperous beginning. Present the "Chrome" Gift Box and let its delectable treats become a centerpiece of joy and delight during this special occasion.
2. Anniversaries/Valentine's Day:
Whether celebrating a special milestone or expressing love on Valentine's Day, the act of sharing and savoring chocolates from a gift box creates moments of joy and deepens the connection between loved ones. For these heartfelt occasions, the "Nuts About You" Gift Box from our collection is an exquisite choice. With its irresistible assortment of nutty chocolates, this gift box symbolizes the sweetness and nurturing love shared between partners. Present the "Nuts About You" Gift Box and let its tantalizing treats ignite sparks of romance and create cherished memories that will be treasured for years to come.
3. Festivals:
Embrace the spirit of togetherness and delight by sharing and exchanging chocolate gift boxes during festive celebrations. These delectable treats become a perfect addition to the joy of the occasion. Our festive gift boxes add a touch of sweetness to all the festivities you celebrate, making them even more memorable and enjoyable. Additionally, the
"Better Together" Gift Box
and Royal Celebration Box offer a luxurious assortment of chocolates, ideal for indulging and spreading happiness during festive gatherings. Choose these delightful gift boxes and let the festivities be filled with moments of joy, love, and shared sweetness.
4.  Office victory:
Celebrate a successful project or milestone by sharing a chocolate gift box, a gesture that recognizes the team's efforts and fosters a positive and uplifting environment in the office. The "Royal Celebration" Box, Nama Gift Box, and "Better Together" Gift Box from our collection are excellent choices for this occasion. These carefully curated gift boxes offer a variety of irresistible chocolates that will delight and reward the hard work of the team. By presenting these indulgent treats, you encourage camaraderie, motivation, and a sense of accomplishment among your colleagues, making the office victory even sweeter. 
5. Just Because:
Surprising your friends with a chocolate gift box without any specific occasion is a delightful way to bring joy . The "Pure Love" Gift Box and "Berry Nutty Surprise" Gift Box from our collection are perfect choices for these spontaneous gestures. The "Pure Love" Gift Box embodies pure affection with its exquisite chocolates, while the Berry Nutty Surprise Gift Box offers a delightful blend of flavors of blueberries and macadamia nuts for a unique taste experience. By presenting these thoughtful gifts, you can show your friends how much they mean to you and create moments of happiness and connection that will be cherished.
The rich and indulgent flavours of chocolate create a sensory experience that can evoke feelings of comfort and happiness. Whether it's a birthday, anniversary, or any other event, we provide a range of options that will surely spark your creativity and offer unparalleled gifting ideas. From beautifully packaged assortments to carefully crafted treats, we ensure that your gift will leave a lasting impression and create an unforgettable experience for the recipient.