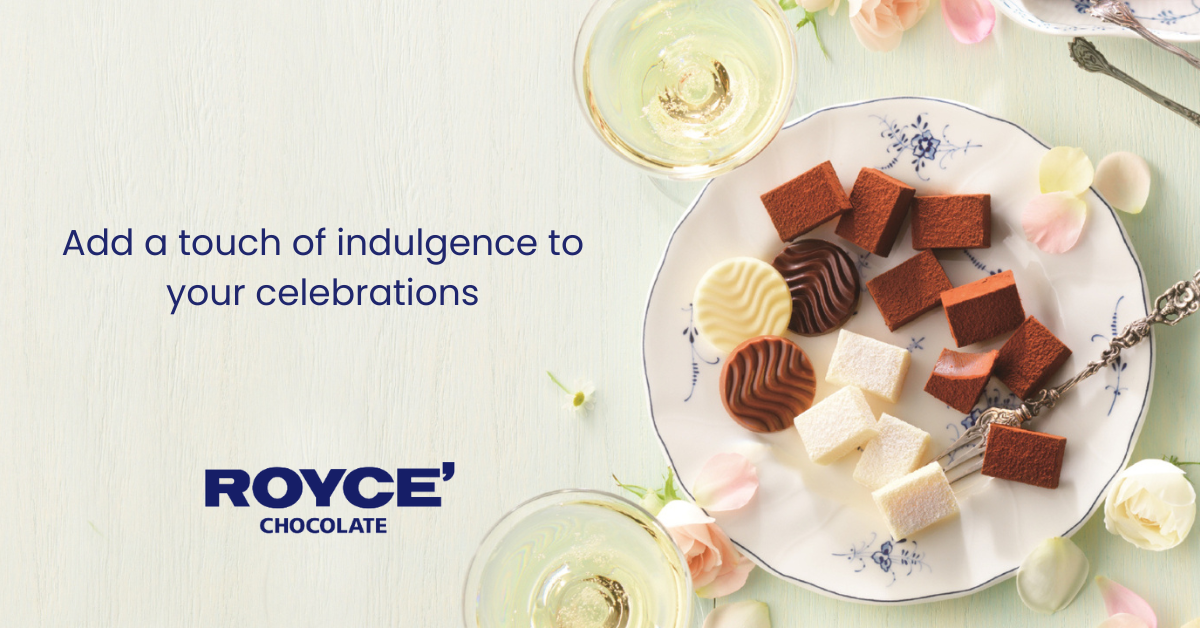 Spreading Love Beyond Borders - Celebrate with Royce' Chocolate
In this fast-paced world, it's not uncommon for families and friends to be separated due to work, studies, or other commitments. Living away from home often means missing out on important family events and cherished moments. It can be an exciting adventure, but one that comes with its fair share of challenges. Whether it's a birthday, anniversary, or holiday, being away from loved ones during those special days is always tough. Social media and Facetime have made it easier to stay in touch with your loved ones, but the yearning for home never quite fades. The silent wish in your heart to be home while your loved one celebrates their day can be overpowering.
Being far from home, in a new land, is never easy. Our
"Only the Best" Gift Box
helps you bridge the gap from Manhattan to Mumbai, from New York to New Delhi, from Australia to Ahmedabad, from Cuba to Chennai, and from Berlin to Bengaluru. We connect you across the globe.
Sharing a sweet treat for every occasion is deeply rooted in our cultural fabric. Whatever the occasion may be, sweets are always a must.. It is a heartwarming tradition that spreads joy to each person, even from afar. The new Indian has, for the most part, evolved. The new Indian now wants chocolates, cakes, and ice creams for occasions, and the superior and most indulgent choice will always be chocolate.
From the best-kept secret of Japan, we bring to you the creamiest, most delicious chocolate you will ever taste. The finest chocolate in the world is ready to be the best gift you have ever given to your loved ones. Bringing you the best chocolate all the way from Hokkaido, Japan, for you and your loved ones to relish. This work of art may become a staple in your household, similar to the likes of Lindt, Cadbury, and Hershey's. Let our art be the best gift you have ever given.
When you receive a gift from someone you love, it's a tangible reminder that they're thinking of you, even if they can't be there in person. And when that gift is something like our signature melt-in-mouth Nama Chocolate by Royce', it's even more special. Amidst the bittersweet nostalgia that accompanies these absences, we exist as a delightful bridge that connects loved ones across borders. 
We offer a delectable way to share a taste of happiness with your loved ones, regardless of the miles that separate you. A heartfelt video call while enjoying our Nutty Bar Chocolate, a teary smile wishing you were in each other's presence, a thoughtful message accompanying your treats – we become your catalyst for connection and conversation. We bring you closer despite being miles apart. Each bite of the Nama Ecuador Sweet becomes a shared experience as if you were indulging in the same moment together, despite physically being far apart.
Even though you may be missing out on events and traditions, our Signature Red Gift Collection allows you to create newer, sweeter ones. We evoke nostalgia, strengthen your bonds, and become a part of your new traditions that keep us connected, even when you are physically apart. Our decadent "Dark Chocolate Love" Gift Basket, perfect for Dark Chocolate lovers in your celebration, forges unique rituals and becomes a symbol of love, care, and enduring even oceans apart.
Many people who live abroad have experienced the joy of receiving our "Sakura" Gift Bag from a loved one. It's a gift that not only tastes amazing but also carries with it the memories of past family events. Whether it's the taste of Baton Cookies that reminds you of Christmas morning or the sweet and salty Potatochip Chocolate that takes you back to summer barbecues, we are more than just a treat – we are your connection to home. We act as your delicious bridge to home, enabling you to be present in spirit and share moments of joy and celebration with your loved ones.
Imagine receiving a package of our "Pure Nutty Delight" Gift Box from your mom on your birthday. As you open the box and take a bite of your favorite flavor, you're transported back to all of the birthday celebrations you had as a child. Suddenly, you don't feel so far away from home anymore. That's the power of chocolate – it's more than just a sweet treat; it's a connection to the people and places you love. And that's the smile we want to see you wearing, the one filled with love and joy. So next time you're missing home, grab our one of a kind Gift Bag and take a bite – you might just feel a little bit closer to the ones you love.