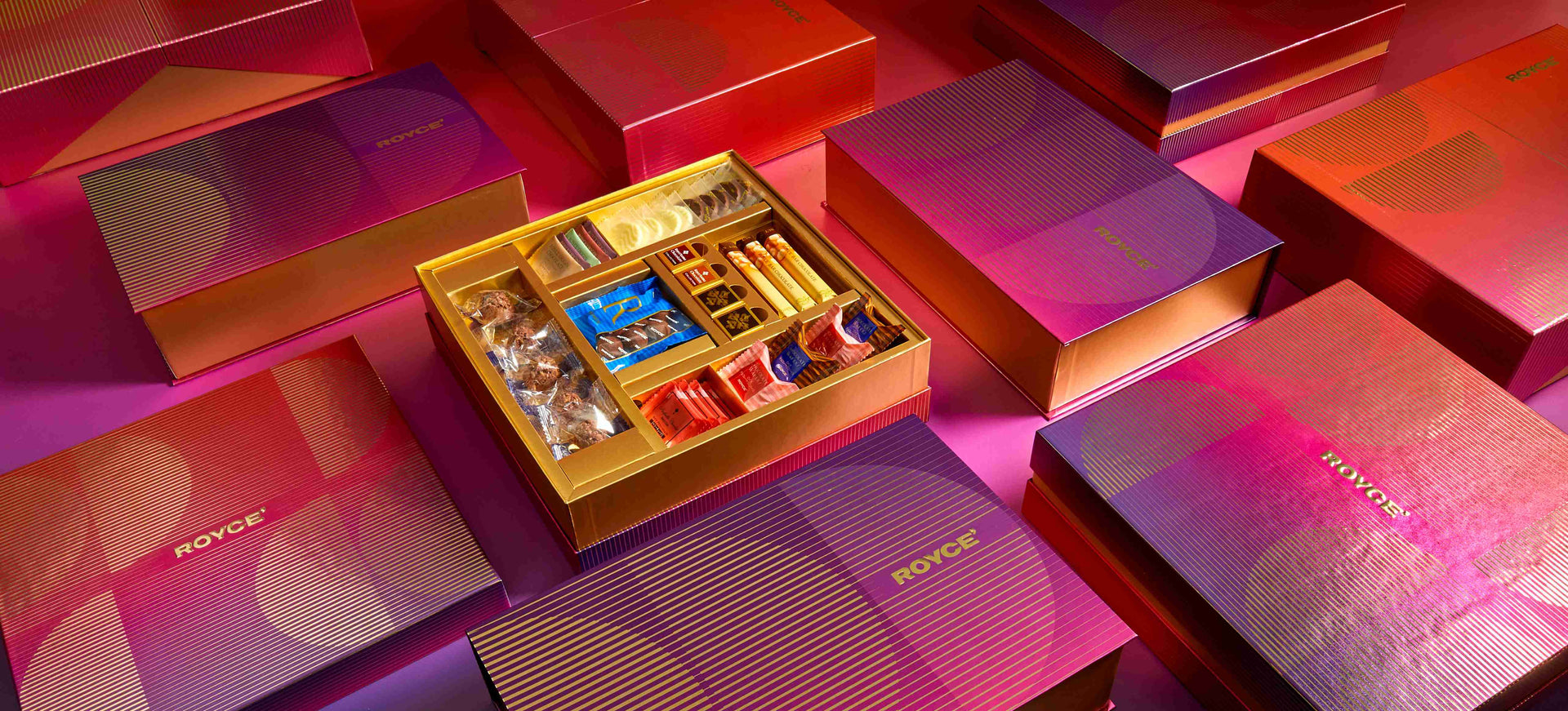 Make Your One-Of-A-Kind Gift Hamper
Rich, luxurious and flavourful, our chocolate makes for the perfect gifting option for any occasion. Crafted from the finest ingredients sourced from across the globe, our chocolate spells uniqueness and quality with every bite. Whether you're looking to spoil a special someone or celebrate some big news or simply want to show someone how much you care, our confections are perfect for everything - big and small.  
But wondering what makes gifting with us even more special? It is the ease of being able to build your own one-of-a-kind gift hamper with our premium chocolate.
Yes, you read that right. We let you go the extra mile with our customised gifting service. 
Here's are two ways to customize your gift box:
From mildly-sweet, extra-dark, slightly salty, amazingly crunchy to silky-smooth, we have something for everyone. Our wide range of flavourful chocolate lets you curate a gift hamper to suit different palettes. Distinct textures, authentic flavours and fresh ingredients - you can pick and choose the kind of chocolate selection you want to surprise your loved ones with and build a luxurious hamper with our elegant trays, baskets and Signature Red Gift Box options. Whether it is our bestselling chocolate or a limited edition collection, we let you customize the hamper from our entire product range to suit your needs.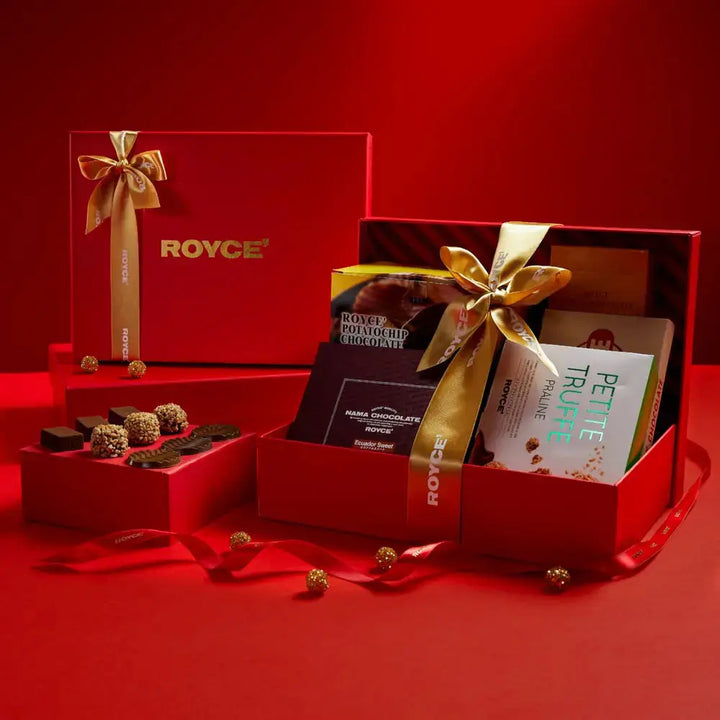 MAKE YOUR OWN ASSORTMENT BOX:
This customization allows you to choose the different variants of chocolate within a pre-selected range of products and create a versatile gift box filled with diverse flavours. You can even request for a customized assortment to meet your budget and choice of products.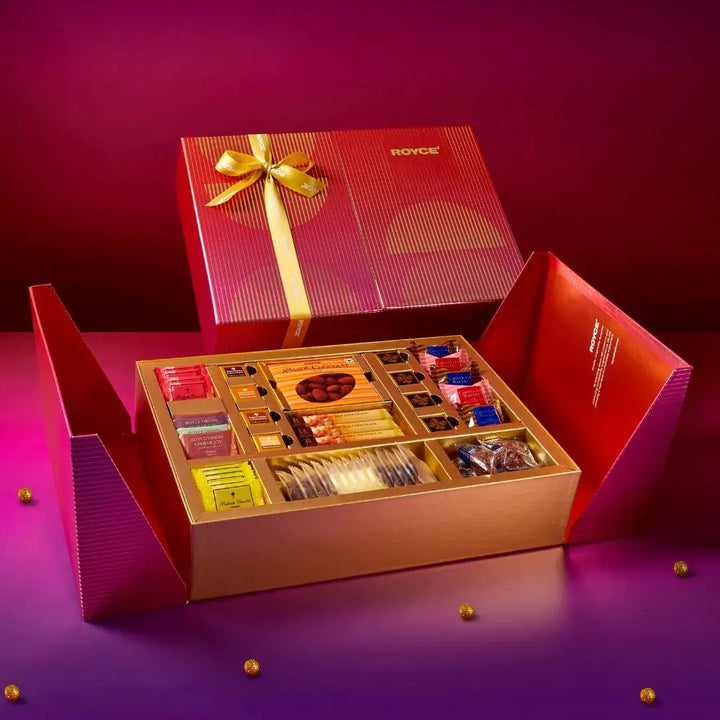 ADD A PERSONAL TOUCH: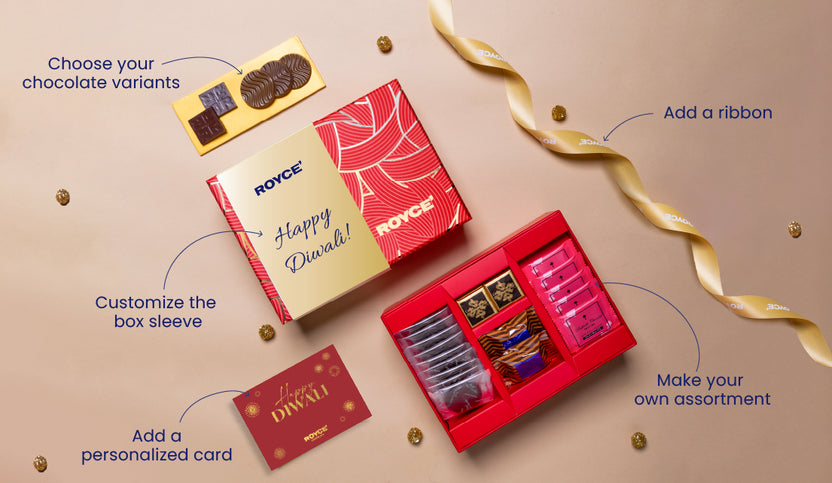 CUSTOMIZE THE BOX SLEEVE:
Once you have found the right variants of chocolates, go on and customize the box sleeve with special texts, artwork designs and logos that would best suit your gifting occasion.
ADD A PERSONALIZED CARD:
Write a heart-felt note and spread warmth with your words. What is even more special is that you can go the extra mile and design your own card that reflects your attention to detail. 
SEAL IT WITH LOVE: 
Add an embossed ribbon that can be customized with special text or logo to suit your needs and seal the package with elegance. 
SEND IT WITH CARE:
Once you have customized the gift hamper, made your own assortment of chocolate and added your personal touch with the tiniest details, we ensure the chocolate is delivered melt-free. Extra-care is taken every step of the way, so the package brings a smile to the receiver's face. 
We understand that all your special moments, all your celebrations, all your relations deserve only the best. Hence, we take it upon ourselves to make your gift standout with our fine chocolate and elegant customizations. 
From baby birth announcements to wedding anniversaries to corporate events to festivities and everything in between, we have a unique gifting solution for every occasion. 
Cherry on the top? Our customized gifting options allow you to add your own personal touch to every curation. 
Luxurious quality indulgences, packaged with precision, delivered with care – we make sure your gift hamper leaves a lasting impression on anyone who is set to receive it. 
It truly doesn't get more elegant than this!