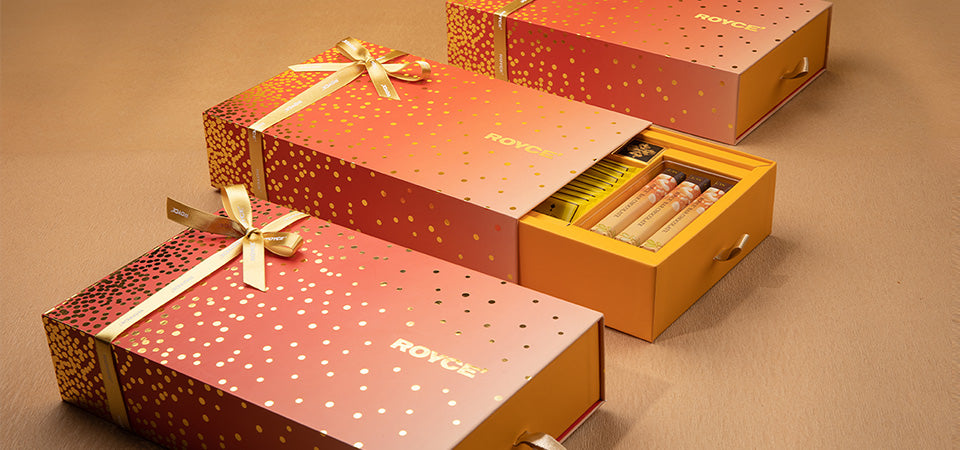 5 Reasons Royce' Chocolate is the best diwali gift idea
The festival of lights, Diwali is just around the corner. Are you ready for this year's festivities? Every year we give and receive Diwali gifts. With the busy-ness of the season, we often have little time to plan a gift that reflects our style, taste and thoughtfullness.  This year, lets get our gifting right! 
If you are looking for Diwali gifts that your family and friends will remember long after the festivities are over, then look no further than indulgent Royce' Chocolate.
Make It A Diwali To Remember
The festival of lights, the festival of shopping and the festival of gifting! Of course, what's most important is to show our loved ones that we care. Sharing a gift is a great way to remind your loved one that they are being remembered and the relationship is important to you. The best Diwali gifts are those that bring a smile to the recipient's face. What gift is more universally loved than chocolate? 
Here are five reasons why Royce' Chocolate is the best Diwali gift this year.
#1 - Assorted Chocolate Diwali Gift Boxes
We make it easy for you to decide on a Diwali gift. We offer an extensive range of ready-to-share Diwali. Our thoughtful and luxurious Diwali gifts feature some of our best-selling chocolates that are beautifully packed in keepsake boxes.
#2 - Curated Diwali Gift Hampers
We understand the emotion and care that goes into Diwali gifts for family and friends. To create a unique gifting experience, you can select your favourite Royce' Chocolate, choose the perfect gift box and add a personal note, we will take care of the rest!
#3 - Twist On Tradition
Everyone gives mithai and dry fruits. But something that hits differently is decadent and  indulgent chocolate. A Diwali gift box of assorted fine chocolate from Royce' will leave a lasting impression and have the recipient thinking and thanking you long after the festive season is over.
#4 - Exquisite Chocolates
Unique, exclusive and indulgent, Royce' Chocolate is made from the finest ingredients including fresh Hokkaido cream. We pride ourselves on the exquisite quality, manufacturing process and ethically sourced ingredients of our chocolates. Available in a range of flavours from dark, milk and white chocolate. Our signature assortments are a must-gift for any occasion, especially Diwali.
#5 – Available In 12 Cities
Whether you want to celebrate Diwali with your loved ones together or want to send Diwali gifts to your friends and family who live in different cities, we will deliver your gifts to them on time – melt-free!
So, with that, we hope we were able to give you some great Diwali gift ideas for your family and friends to make this year's celebrations more special. If you want to gift luxury chocolates for Diwali, explore our exquisite range of gift hampers. You can order online, visit the store or reach out to us and we will create a unique gifting experience for you, this Diwali. 
Make it a Diwali to remember!